Before last year, people still went to the store to buy furniture piece by piece. Since the second half of this year, many furniture brands and decoration companies have begun to launch tailor-made package furniture. . Who will be saddened by the appearance of "low-cost packages"? For furniture brands with high brand awareness and targeting mid- to high-end consumer groups, "low-cost packages" are certainly not rivals, but for small and medium-sized furniture brands that target a large number of mid-end mass consumer groups, "low-price packages" have become rivals. It can be said that with the emergence of "low-cost packages", the pattern of the furniture market will change.

Furniture packages are unveiled

"A house of 80 square meters, 16 pieces of furniture for the whole house are only sold for 19,789 yuan." As soon as the reporter walked into the street of Shilihe Building Materials, sales staff greeted them and enthusiastically promoted the brand-new furniture package of Shangpin house. . "The package includes all necessary furniture such as sofas, wardrobes, bedding, TV cabinets, hall cabinets, dining tables, dining chairs, cupboards, etc. If you are not satisfied with which furniture, the company can also customize it for you and change to other styles, Just add a little fee. "

Shangpin home delivery is not the first brand to cut into furniture packages. As early as May this year, Qumei Furniture, which has always been known for its high-end quality, was the first to launch furniture packages in the industry. It can purchase 19 pieces at 14,299 yuan and 21 pieces at 16,800 yuan. The original intention of Qumei CEO Zhao Ruihai is, "This The set of customized products is 30% -40% cheaper than other products. Our goal is to let everyone who walks into the Qumei store return with full load when the income of ordinary people generally decreases. "

It's not just brand furniture vendors who are interested in furniture packages. Decoration companies are also making a big fuss about furniture packages this year. "19800, the old house becomes a new home", after the introduction of the second-hand house renovation package at the beginning of the year, the taste of the present decoration is tasted, and in June this year, "15,000 yuan 15 pieces of furniture", "26,000 yuan 20 pieces of furniture", "37,000 yuan 24 pieces Furniture package. Followed by the creative decoration, "12999, all furniture". To this end, Shichuang Decoration specially built a 6,000 square meters furniture direct sales hall on the 3rd floor of Hall of Fuliite Home Furnishing for consumers who choose furniture packages to experience each piece of furniture in the package.

Package furniture aimed at low prices

If you spend less than 20,000 yuan, you can buy all the furniture you need in your home. Some packages are even cheaper. You can buy a full set of furniture as long as 10,000, and a single piece of furniture that is generally on the market can cost 10,000 yuan. In contrast, the temptation of low-cost package furniture is no small matter.

At such low prices, are package furniture businesses still profitable? Qumei CEO Zhao Ruihai once calculated such an account for the reporter, "Taking '14299 yuan to buy 19 pieces as an example', our goal is to sell 10,000 sets a year. With Qumei's current market popularity and 500 nationwide Many specialty stores, it is not difficult to achieve this goal, then in one year, Qu Mei can sell 150 million with this package alone, this figure is equivalent to one year sales of all products of a medium-sized furniture factory, but right In terms of beauty, it is just a single series of products. "

It is not difficult to see that the revenue of low-cost package furniture merchants is balanced by the amount of volume, and Sun Wei, the CEO of Shichuang, also agrees very much: "The products in the Shichuang furniture showroom are not only produced by Shichuang 's own wood factory. It will also collect other furniture brands on the market to give consumers more choice. Shichuang has a minimum of 10,000 home improvement customers every year, and each household needs about 25,000 yuan. Then there are 250 million a year. Yuan furniture market can be tapped, so making furniture packages is very worth trying. "

Does low price sacrifice quality? "The furniture raw materials and accessories we use are relatively good in the market. The reason why we can achieve low prices is because we have a standardized production line of wooden products behind us. All furniture is produced by assembly lines, and the production cost can be reduced; In addition, we do not go to retail hypermarkets, there is no terminal fees, this can save at least 25% of the channel cost, so we can achieve low prices. "Wang Xiaobing, deputy general manager of Jinzhao Decoration, explained to reporters that package furniture can be cheap the reason.

Low price changes the market pattern

If it were n't for a sudden cold wave that swept through the home market last year and put many brands into a sales dilemma, the "low-cost package" would not appear so quickly and intensively. However, after the "small market spring" in March this year, major merchants generally reported that the market has smoothly transitioned to a normal state, and even the sales of certain stores and brands have increased year-on-year, but the market recovery has not made the "low" The "price package" has shrunk, but on the contrary, it is likely to rise. "Low-cost packages" are popular, who's life will be sad?

It is not difficult to find that the merchants who launch low-cost packages carefully find that the "low-price packages" launched by brand furniture manufacturers are equivalent to the sub-series of its full range of products, and they cannot occupy the main sales of the brand. Low-price packages will not steal high-end packages. Customers who position furniture, that is to say, the appearance of "low-cost packages" will not affect the sales of mid- to high-end furniture brands; while the decoration companies that launch furniture packages are less selective than the stores in terms of furniture types and styles. There are various types of furniture brands in China, and it is more difficult to persuade its home improvement customers to purchase package furniture. Therefore, for brand furniture manufacturers that already have a considerable reputation, the current "low-cost package" will not pose a threat to them.

However, for many furniture companies with low brand recognition and low-end positioning in the market, they could have a share of the price advantage with mid-to-high-end furniture brands. The emergence of "low-cost packages" will cause such small and medium-sized brands. Strong impact, which in turn prompted the current furniture market pattern to change.

Stainless Steel Plain Dutch Weave Mesh, also known as wire mesh, it is made of high quality stainless steel wire. Similar to plain weave, it is weaved line by line. But for this kind of Stainless Steel Wire Cloth, the difference is the diameter of the weft is more thicker than the diameter of the warp. The weft wire is close together and then form a conical or wedge shaped hole. There is a big contrast between warp and weft wire diameter and density, so the net thickness and filtration precision and service life is significantly improved than common steel mesh. the filtering precision is running cannot be achieved for plain weave and Twill Weave Mesh screen.

Weaving: There are two kinds of weaving technology of Dutch woven Stainless Steel Mesh . One is plain Dutch knitting and the other is twill Dutch knitting. The weaving technology of Dutch woven stainless steel mesh combines Dutch knitting and twill weaving techniques. The coarser thread interleaved the finer threads, weaving each thread through the weft. The weft wire is closely aligned to form a cone or wedge open hole.

Features: Dutch woven stainless steel mesh features 4 points:

1."Zero" mesh, the warp wire diameter than the weft to the larger diameter.

2. Each weft is very tight

3. High precision, high liquidity

4. Filter more solid particles than square or rectangular mesh holes

Material: 201,302,304 (L), 310,316 (L), etc

Application: The Dutch weave Stainless Steel Wire Mesh is one of the best filter medium in hydraulic system, especially the spatial filtering critical applications, as well as the fuel and combustion chamber filter, sediment filter, vacuum filter, etc.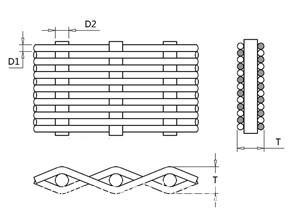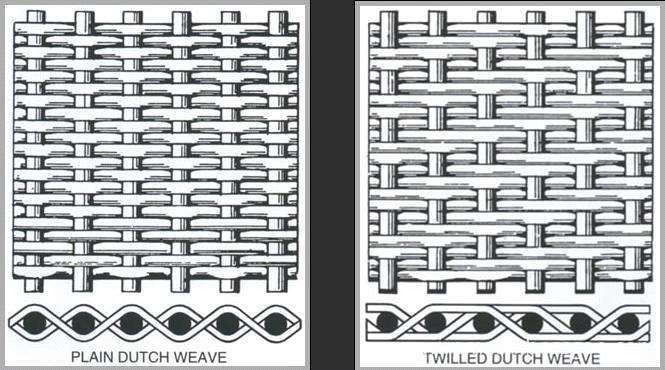 The warp wire (D1) : all longitudinal braided lines.

The weft wire (D2) : all horizontal weaving lines.

Aperture : the distance between two meridians or two weft.

Mesh number:number of mesh holes per inch.

Thickness (T) : thickness of wire mesh.

Specifiaction list:
Plain Dutch Woven Stainless Steel Mesh

SPEC

NUMBER OF HOLES PER INCH

WIRE DIAMETER

APERTURE(micron)

40

10mesh x 64mesh

0.55x0.42

260

50

12mesh x 75mesh

0.45x0.35

220

80

24mesh x 110mesh

0.35x0.25

160

100

25mesh x 140mesh

0.28x0.20

100

120

30mesh x 150mesh

0.25x0.18

80

140

35mesh x 180mesh

0.20x0.16

70

160

40mesh x 200mesh

0.18x0.13

60

180

45mesh x 220mesh

0.16x0.12

56

200

50mesh x 250mesh

0.15x0.11

50

240

60mesh x 300mesh

0.14x0.09

45

260

65mesh x 320mesh

0.13x0.08

36

280

70mesh x 400mesh

0.125x0.07

34

300

80mesh x 700mesh

0.11x0.039

32


















Stainless Steel Plain Dutch Weave Mesh

Stainless Steel Plain Dutch Weave Mesh,Plain Dutch Weave Mesh,Fine Metal Mesh,Stainless Steel Woven Wire Mesh

Anping Xinzheng Metal Wire Mesh Co., Ltd , https://www.sievingmesh.com