In recent years, sharing bicycles, sharing cars, sharing charging treasures, sharing umbrellas..., various sharing economic models have sprung up into our lives. In recent years, the new "shared" industry model of "common factory" is taking root in Zhongshan City to help transform and upgrade traditional industries. On the 8th, the Zhongshan Environmental Protection Bureau organized a coordination meeting and expert consultation meeting for the construction of the common factory of Zhongshan VOCs to promote the construction experience of the common factory.

Furniture companies can be "stayed in" the common factory

Yangcheng reporter learned at the meeting, in the town of Zhongshan City, the mahogany furniture town of Dayong Town Ruida Furniture Factory, is a common factory, using activated carbon adsorption concentrated catalytic combustion process (RCO) treatment The spray tail gas treatment center of the VOC exhaust gas. According to relevant persons from the Atmospheric Department of Zhongshan Environmental Protection Bureau, Zhongshan has traditional industries such as home appliances, lighting, hardware accessories, furniture, doors, clothing, printing, etc., and there are many related companies, such as coatings, dyes, inks and other VOCs. The volume is large, and the level of production management and pollution control in the industry is uneven. Most of these enterprises are small and medium-sized enterprises. The traditional coating industry is facing problems such as high environmental pressure and difficulty in upgrading and upgrading. To this end, at the end of last year, Ruida Furniture (Common Factory) Environmental Protection Center was completed in Dayong Town, becoming the first centralized paint spraying waste gas treatment project in the city and even the whole province, and solving the small and medium-sized projects with high standard environmental protection facilities. Furniture companies spray paint tail gas and wastewater treatment problems. In addition, Zhongshan City is also promoting the "common factory" for metal surface coating. At present, Guzhen and Henglan are lighting hardware processing bases, and they are equipped with centralized painting workshops to concentrate pollution control. The current EIA preparation is initially completed. With this "common factory", the cost of dyeing and dyeing furniture companies in Tai Chung has been reduced, and it is possible to "stay in" a common factory and share the site, paint booth and environmental treatment facilities of the plant. At present, Dayong Town is planning to build 10 "common factory" projects in the town to provide services for SMEs. In order to promote the common factory project of VOCs, Zhongshan City requires that all the factories below the scale except for the process workshop using water-based and low-volatility coatings, other solvent-based paint coating and drying workshops must be phased out and closed before the end of 2020. The process is concentrated in the "common factory" for processing.

"Common factory" greatly enhances efficiency.

In addition to the furniture industry, "common factory" also provides intelligent technical services for the majority of small and medium-sized enterprises in other manufacturing industries in Zhongshan, greatly improving the efficiency and quality of production. Zhongshan has 38 state-level industrial bases, 18 professional towns and 50,000 industrial enterprises, of which SMEs and private enterprises are the mainstays. These enterprises generally encounter common problems such as lack of technology, lack of funds, and lack of talents in the process of intelligent manufacturing, transformation and upgrading. To this end, Zhongshan is committed to building a corporate life cycle public technology service platform system, a common factory is one of the important content. At present, there are about 20 common factories under construction and under construction in Zhongshan, which are mainly distributed in the fields of garment cutting, polishing and polishing, SMT patching, mold processing, sheet metal processing and printing consumables.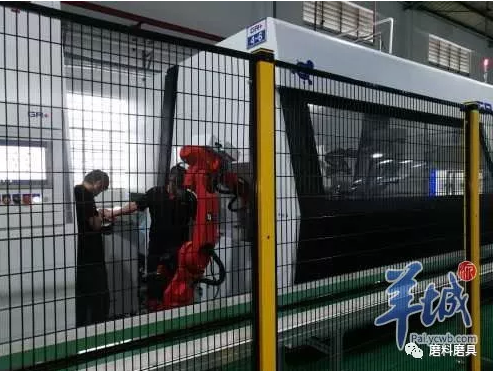 The company's processes are concentrated in the "common factory" for processing, and the centralized pollution control company of Xiaolan Town, Zhongshan City, opened in March this year. Currently, it has a number of robot polishing and polishing lines, and its intelligent and shared robot polishing and polishing platform. Grinding and polishing intelligent common factory to build intelligent manufacturing cloud platform, integrated intelligent order, research and development, production, logistics and other management systems, to achieve customer remote proofing consultation, order contact, production tracking, platform settlement, fully automatic production, 24 hours of uninterrupted work. Xiaolan is a professional town in the hardware industry. In the hardware industry chain represented by the lock industry, the polishing of accessories is a process that enterprises can't. However, for most small and medium-sized micro-lock companies, it is difficult to configure a special polishing and polishing line. The traditional manual polishing process has unstable quality and low qualification rate. The dust generated by polishing and polishing can easily cause safety accidents such as explosion. Zhang Guotao, general manager of Juxiang Robot (Zhongshan) Co., Ltd. introduced that the company provides grinding, polishing and overall solutions, processing of materials, equipment rental and technical output by sharing plant facilities, technical talents and intelligent equipment. "From the loading of the blanks to the deburring, polishing, polishing and cutting, the whole process is completed by the robot." Talking about the "sharing" idea, Zhang Guotao said that customers should fully automate the production of robots, and the one-time equipment investment is very High, and the device usage is not saturated, and we can solve this problem through equipment investment. And customers only need to come to us to produce. When their order is gone, we can switch to another customer's order and increase the usage of the device. Zhang Guotao said that since the company opened for four months, it has been very popular among Xiaolan's enterprises. The biggest change reflected by customers is the manpower. It can replace 60% of manual grinding, and the quality and efficiency will increase by more than tens of percent. The company also plans to open "common factories" in Nanhai, Shunde, Yunfu, Jieyang and Jiangmen. In addition to the collection of robot companies, Guangdong Yuanyi Technology and Guangzhou Chunxiao Company have built and operated a smart cutting and rapid processing public service platform, becoming the province. The first common factory for garments can save 3%-5% of fabrics and reduce the overall cost by 20% compared with manual cutting. It plans to open 20 flagship stores nationwide this year, and the number of garment cuts exceeded 100 million. The East China Sea Surface Mounting Common Factory uses the intelligent cloud service high-speed SMT chip device as the carrier to create a unique full-vision intelligent automatic SMT patch production line, which saves 50%-60% of the cost compared with manual placement.

What is commonality? factory?

common plant refers to a plant-oriented independent legal entity traditional industries, providing intelligent processing services. it is by the same traditional industrial enterprises plus Link gathered in the factory, and product of "decentralized design, focus on production." At the same time, within the common factory use intelligent, flexible manufacturing techniques, to achieve transformation of traditional industries, a highly effective, intensive new production model.

400 Series Strips,430 Stainless Steel Strip,Polished Stainless Steel Strips,400 Series Stainless Steel Coil Strip

Foshan Sunsteel Co. , Ltd , https://www.fssunsteel.com