There are four types of shredder equipment according to the working principle: single shaft crusher, double shaft shear crusher, double shaft coarse crusher, four shaft shear crusher. The equipment model of each model is different for the material. Jiepu Intelligent Environmental Protection will tailor the solution according to the actual material.

The shape and size of the output size of the shredder are mainly determined by these three points:

1. Number of teeth of shredding motorized knife

2. Shred the gap between the motorized knife and the movable knife

3. The distance between the outer diameter of the shredder and the spacer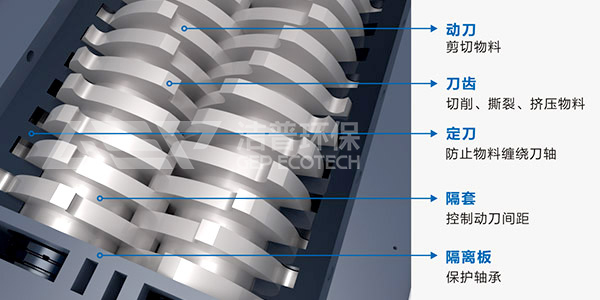 Key point: three key points of the material size of the shredder

1. The number of teeth of the shredder motor knife determines the fineness of the shredder material

2. The distance between the shredding motorized knife and the movable knife determines the length of the shredded material

3. The distance between the shredder blade and the spacer determines the width of the shredded material.

Under normal circumstances, the smaller the size of the crushed material. The cost of crushing is higher, so it is necessary to understand the cost and profit of the demand relationship.

For example, if you require the material to be crushed to a discharge size of 50 * 50mm, the word shear crushing is not enough for the shredder equipment. The shredder equipment must be equipped with a screen to ensure the particle size. However, things always have two sides. On the one hand, the screen ensures the particle size of the discharge, on the other hand, it will greatly reduce the output and increase the cost of crushing, and it is difficult to exclude the unbreakable materials after entering the screen, which may cause equipment damage.

Shredder blade, also known as shredder cutter, is one of the most important accessories on shredder equipment and one of the wearing parts of shredder. The quality of the shredder cutter directly affects the crushing cycle of the equipment for solid waste. The shredder blades are divided into single-shaft shredder cutters and dual-axis shear cutters. So what is the material of the cutter (blade) of the shredder?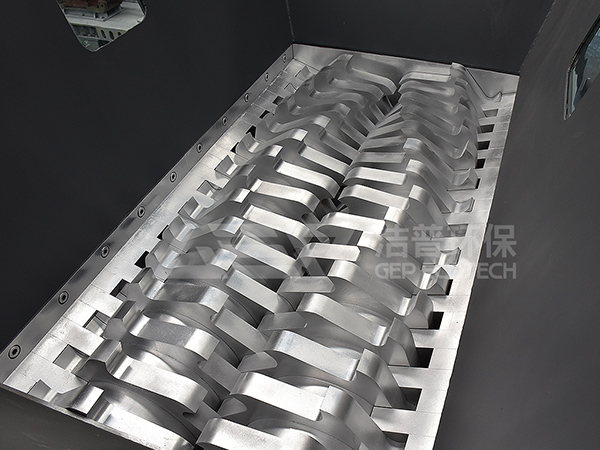 The manufacturing precision of shredder cutters largely feels the quality and use effect of the equipment. The material of shredder blades is generally made of high-quality tool steel such as 9crsi, Cr12MoV, SKD-11 and Hegaojin die steel.

The cutting edge of the cutter will wear during normal use. After a certain degree of wear, the cutter needs to be repaired or replaced in time. Otherwise, it will not only affect the output and the crushing effect, but also affect the normal operation of the equipment.

Jiepu intelligent environmental protection tools are imported from European materials CrNiMo high alloy steel and imported high-quality high wear-resistant materials. All tools are processed by advanced heat treatment technology and then processed by high-precision machine tools, which have a long service life. The fixed knife of the shredder can be disassembled and installed independently, which can be quickly disassembled and replaced in a short time. Jiepu intelligent environmental protection can customize suitable tools according to different materials of customers, effectively ensuring the high-quality performance of tool performance.

Application field of shredder:

Bulk waste, industrial hazardous waste, electronic waste, plastic waste, metal waste, used tires, paper mill strands, biomass synthesis, plastic packaging drums, leather / fabric trim

If you have needs for this equipment, please call us. There will be professionals to answer all your questions about shredder equipment, and recommend the equipment type and model for you to make detailed equipment or production line solutions.

================================================== ================================================== ======
Customer Service Hotline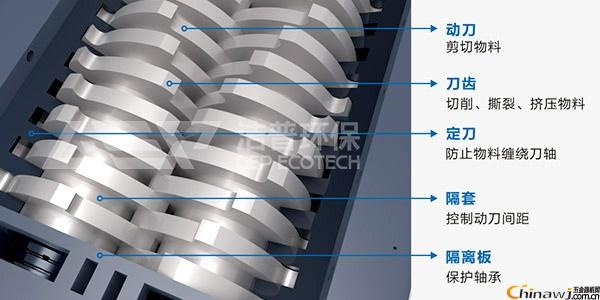 Our industral fans and blower are made of chromium carbide Hardfacing Wear Plate and it uses for the continuous flow of air or gas that industrial fans generate, including combustion, ventilation, aeration, particulate transport, exhaust, cooling, air-cleaning, and drying, to name a few. The industries served include electrical power production, pollution control, metal manufacturing and processing, cement production, mining, petrochemical, and etc.

Chromium Carbide Fan Housing,Chromium Carbide Wear Parts,Wear Fan Housing,Wear Fan Blades

SHENYANG HARD WELDING SURFACE ENGINEERING CO.,LTD , https://www.hardfacingplate.com