Technical: ERW, Hot Finished, Cold Formed, Extruded

Certificate: ISO 9001 En 10210 En10219 FPC

Marerial: Welded, Seamless, Galvanized, Stainless

Standards: A513 A500 En10210 En10219 Jisg3466 As1163 Gbt6728

Steel Grade: S235jr S275jr S355jr S355j0 S355j2 C250 C350 Ss400

Application: Glass Curtain Wall, Steel Structural, Machinery

Trademark: JiNan Xin JiYuan Special section tube

Transport Package: in Bundles

Specification: 20x20mm-600x600mm

Origin: Jinan City, Shandong Province, China

HS Code: 73066100

Main Product: Welded and Seamless Steel Square Tube

Technical: ERW, Hot Finished, Cold Formed, Extruded

Certificate: ISO 9001 En 10210 En10219 FPC

Marerial: Welded, Seamless, Galvanized, Stainless

Standards: A513 A500 En10210 En10219 Jisg3466 As1163 Gbt6728

Steel Grade: S235jr S275jr S355jr S355j0 S355j2 C250 C350 Ss400

Application: Glass Curtain Wall, Steel Structural, Machinery

Trademark: JiNan Xin JiYuan Special section tube

Transport Package: in Bundles

Specification: 20x20mm-600x600mm

Origin: Jinan City, Shandong Province, China

HS Code: 73066100

PRODUCTS

special section tube/( Sharp Corner/Seamless)Square and Rectangular Steel Pipe for papermaking machinery

SIZE:

SHSÂ 20x20mm-800x800mm

RHS 20x30mm-400x800mm

 

Steel Grade:

* Q235B , Q345B/C/D/E,Q460,SPA-H,Q450NQR1

*Â S235JR,S275JR,S355JR ,S355J0,S355J2

*Â STK490 STK400,SS400

*Â C250,C350,C350L0

* Gr.A.B/C/D  ,  

*Â S304 ,S316L etc.

Surface:Â 

Hot Dipped Galvanized, Black,Painted,Oiled,Sand Blasting etc.

 

StandardsDIN EN 10210

 (Europe)  

--Hot finished structural hollow sections of non-alloy and fine grain steels

DIN EN 10219Â 

(Europe)Â 

--Cold formed welded structural hollow sections of non- alloy and fine grain steels

ASTM A500Â 

(American)Â 

--Cold formed structural Circular sections and special sections (welded/seamless)

GB/T 3094-2000 (China)

--Cold drawn forming steel tube

GB/T 6728-2002(China)

--Cold formed structural hollow sections

JISG 3466(Japan)

--Carbon steel square pipes for general structural purposes

AS 1163Â (Australia)

--Structural Steel Hollow Sections

Technology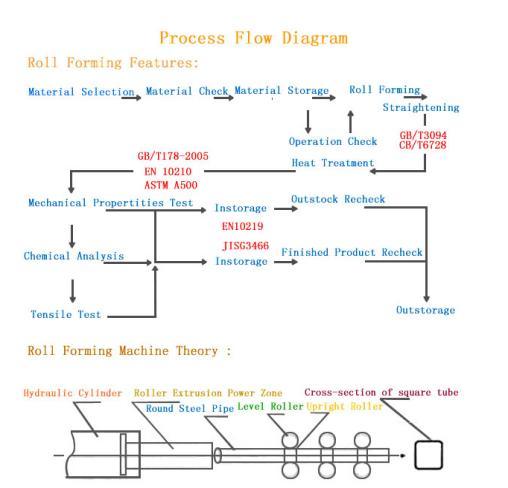 CertificationsCE EN10210-1:2006CE EN10219-1:2006CE EN10204.3.1Â Â Â CE EN10204.3.2ISO9001:2008FPC

 

Application

 

Heavy Steel Structural,Aerospace Engineering 

High-Speed Rail , Ship Building , Machinery 

Cars and High-Speed Trains  

Lashing Bridge,ship steel structural 

Green House  ,Glass Curtain Wall

 

 

PRODUCTS

special section tube/( Sharp Corner/Seamless)Square and Rectangular Steel Pipe for papermaking machinery

SIZE:

SHSÂ 20x20mm-800x800mm

RHS 20x30mm-400x800mm

 

Steel Grade:

* Q235B , Q345B/C/D/E,Q460,SPA-H,Q450NQR1

*Â S235JR,S275JR,S355JR ,S355J0,S355J2

*Â STK490 STK400,SS400

*Â C250,C350,C350L0

* Gr.A.B/C/D  ,  

*Â S304 ,S316L etc.

Surface:Â 

Hot Dipped Galvanized, Black,Painted,Oiled,Sand Blasting etc.

 

StandardsDIN EN 10210

 (Europe)  

--Hot finished structural hollow sections of non-alloy and fine grain steels

DIN EN 10219Â 

(Europe)Â 

--Cold formed welded structural hollow sections of non- alloy and fine grain steels

ASTM A500Â 

(American)Â 

--Cold formed structural Circular sections and special sections (welded/seamless)

GB/T 3094-2000 (China)

--Cold drawn forming steel tube

GB/T 6728-2002(China)

--Cold formed structural hollow sections

JISG 3466(Japan)

--Carbon steel square pipes for general structural purposes

AS 1163Â (Australia)

--Structural Steel Hollow Sections

Technology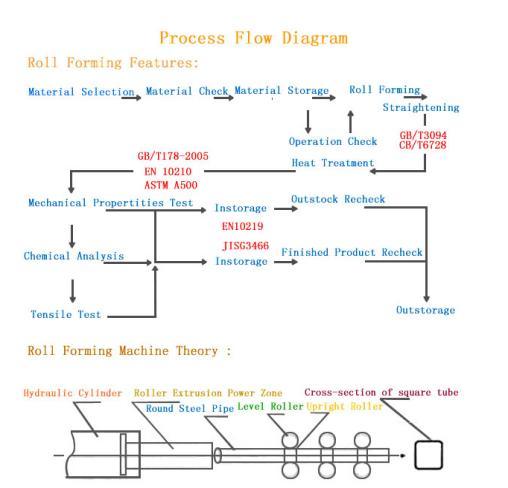 CertificationsCE EN10210-1:2006CE EN10219-1:2006CE EN10204.3.1Â Â Â CE EN10204.3.2ISO9001:2008FPC

 

Application

 

Heavy Steel Structural,Aerospace Engineering 

High-Speed Rail , Ship Building , Machinery 

Cars and High-Speed Trains  

Lashing Bridge,ship steel structural 

Green House  ,Glass Curtain Wall

 

 

Chain Link Fence, used together with post, strut and other accessories. Chain link Fence is a popular and commercial choice for security and isolation of garden, sport ground, field, resident and barrier of road, high way, etc. People normally use it as residential fence, garden fence, sports fence, airport fence, and etc. because it costs few, easily assembled, beautiful. If you want a chain link fence for your house, tennis court, or other places, you can tell us the estimated total length, height, environment, then we can design for you.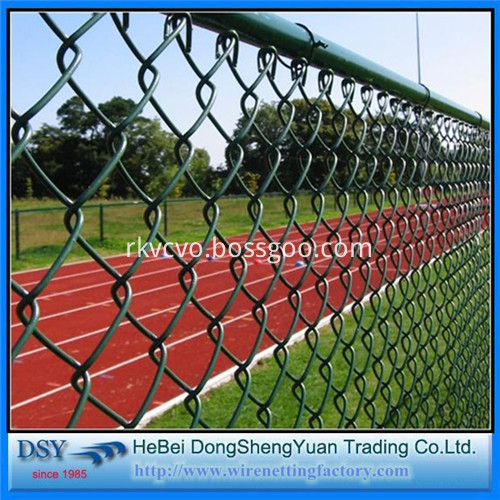 Material:
Low carbon steel wire, Stainless Steel Wire, electro-Galvanized Wire, hot-dipped galvanized wire, PVC wire
Wire diameter:
3mm, 4mm, 5mm

Height:
1.5m-2.5m
Standard roll:
25m/roll or 50m/roll
Selvage:
Twisted edge,knuckle edge
Round post size:
25mm*1.2mm, 32mm*1.5mm, 48mm*2.0mm, 60mm*2.5mm, 89mm*3.0mm
Surface treatment:
Electro galvanized, hot dipped galvanized, PVC coated, galvanized +PVC coated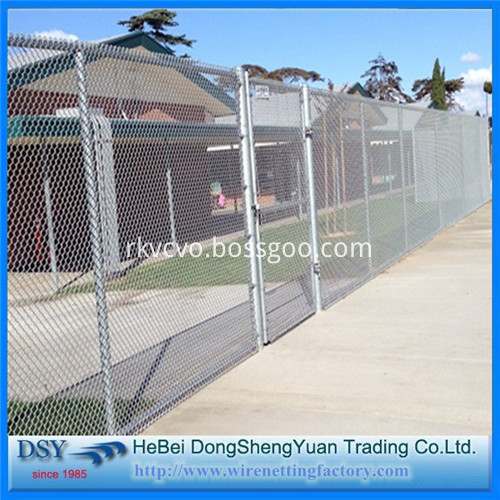 Fittings:
Post cap, clip, tension bar, tension band, sleeve, barb wire arm etc.

Finish of fittings:
Hot dipped galvanized, PVC coated
Features:
Low carbon steel diamond Wire Mesh has a heavy galvanized coating to ensure a long life. The construction is strong,safe and flexible; does not break; does not sag or roll up at the bottom.
Weaving:
Woven diamond pattern provides strong, durable and flexible construction. The closely spaced diamond wire mesh construction gives your fence linear strength and springy texture to protect horses from injury and prevent predators from entering paddocks and pastures.
Application:
Diamond wire mesh is used as fencing for sports field, river banks, construction and residence, also animal fencing.
Applications: Welded steel bar panels are widely used in construction reinforcement, the ground for the tunnels, bridges, highway, airport and wharf, also in construction of wall body.
Process: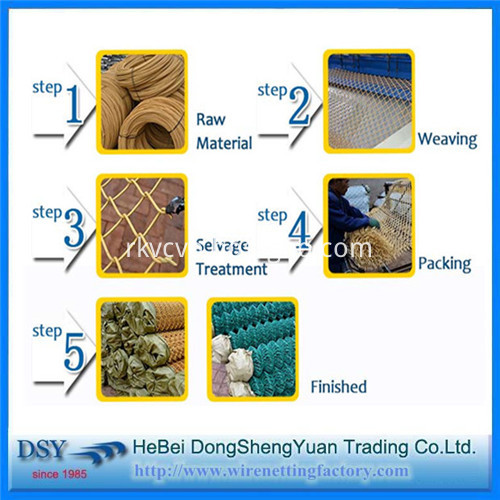 Packaging & Delivery:

Packaging Details: woven bags wrap the above and bottom,high quality package or as customer's required for chain link fence.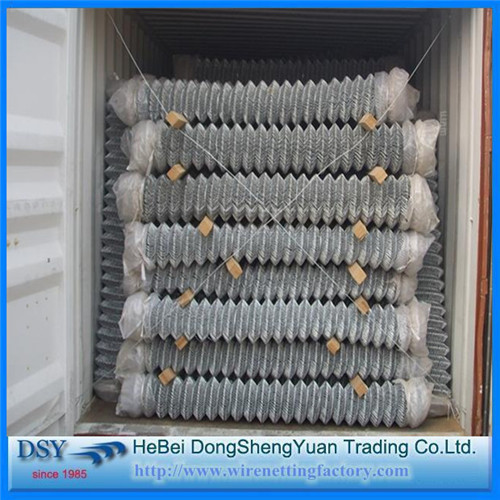 Chain Link Fence

Pvc Coated Chain Link Fence, Pvc Coated Diamond Mesh, Chain Link Fence Panels, Galvanized Chain Link Mesh Fence

Hebei Dongshengyuan Trading Co.,Ltd. , http://www.wiremeshdsy.com